The Galería Canalejas Food Hall opens, a new gastronomy icon in Madrid
The Galería Canalejas Food Hall opens, a new gastronomy icon in Madrid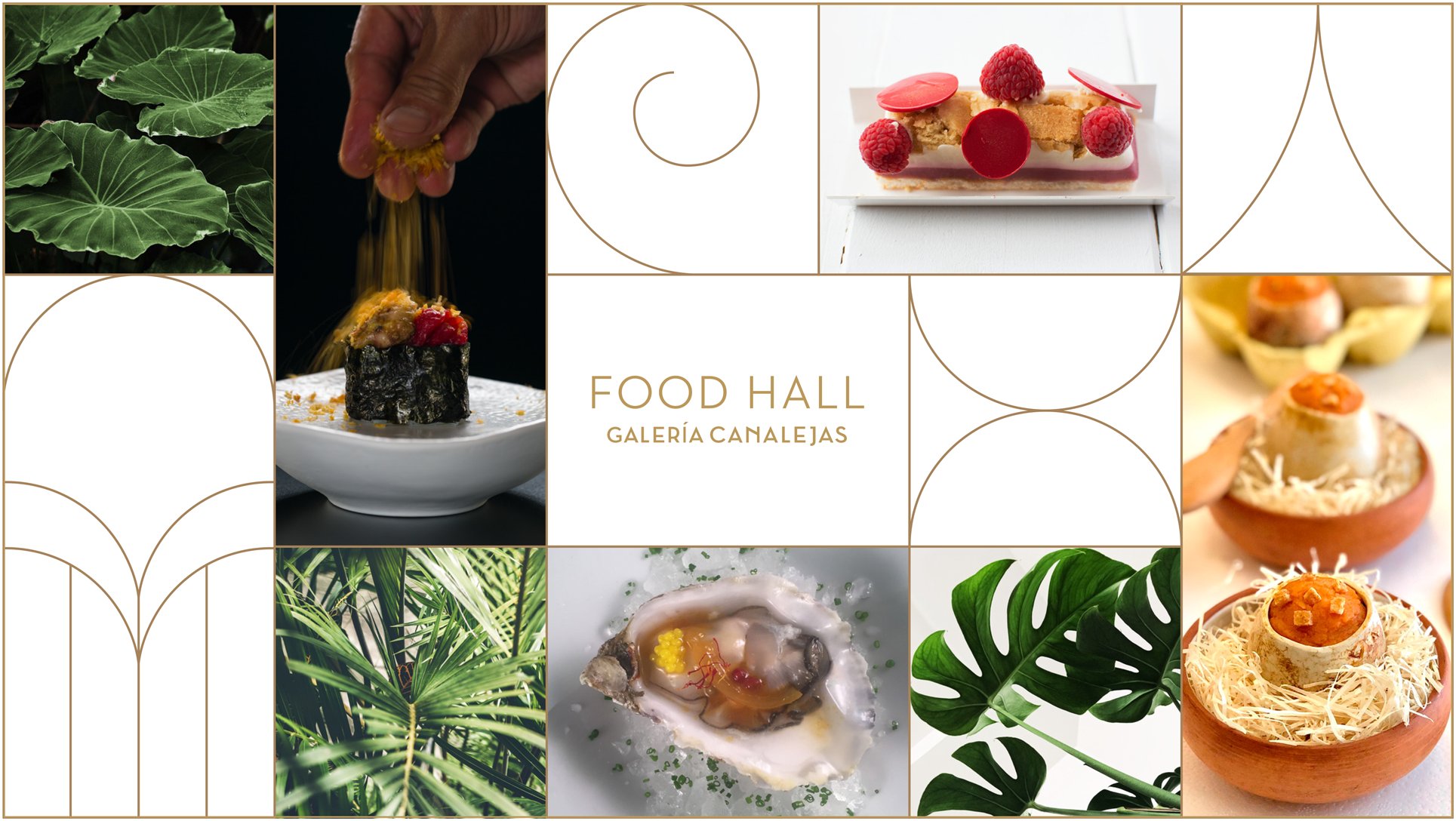 02 Dec, 2021
A total of 13 restaurants offering a broad and carefully selected range of gastronomy options that includes a number of new concepts exclusively created by renowned chefs
---
30 November 2021, Madrid. Galería Canalejas is opening the doors to its highly anticipated gastronomy space occupying 4,000 m2 of this new icon of luxury and gastronomy in Madrid. Located on the iconic Calle Alcalá, the Galería Canalejas Food Hall is home to a total of 13 restaurants with different styles and nationalities, including several concepts exclusively designed by renowned chefs for this unique gastronomy experience in the city. This new hotspot in Madrid is perfect for any occasion due to the varied and carefully selected range of culinary specialities for all tastes, its long opening hours and its location at the vibrant cultural heart of the capital.
The Michelin star chef, Julián Mármol, is bringing some new concepts to the city and opening two restaurants here: Monchis, a surprising crossroads between Japan and Mexico; and The Eight, where the grill - fuelled by traditional Binchotan charcoal from Japan - is the main focus for redefining such traditional dishes as the hamburger or sandwich to harness their full potential. "Spain is a multicultural country. Many cuisines, such as Japanese and Mexican, are well-established here but they also offer many unknown flavours about which I am very passionate. I feel truly privileged to have this chance to be in the best place in Madrid", explains Julián Mármol.
Another shining beacon at this gastronomy hotspot is the chef, Rubén Arnanz, who is bringing the essence of his Castilian cuisine to Madrid by opening his boutique restaurant 19.86 by Rubén Arnanz. One of the youngest people to be recognised with a Michelin star, the chef says "Being part of Galería Canalejas is a new challenge that drives me to keep doing the best I can in a different and unique space. This is a privileged location, with major luxury brands, where Castilian cuisine will shine bright in the capital".
MAD Gourmets is another of the entirely new concepts on offer within the gastronomy experience at the Galería Canalejas Food Hall, with 20 speciality spaces and the latest gastronomy trends from around the world, as well as constantly changing entertainment and live music.
The Galería Canalejas Food Hall also has a wide range of Spanish gastronomy with Iberian hams, cold cuts, cheeses and the best offerings from Spanish wineries at DBellota, which has partnered with Cinco Jotas for the first time and exclusively for Galería Canalejas to offer its Iberian hams and meats; the extensive selection of rice dishes and paellas from the iconic Madrid-based rice dish restaurant St. James; Garelos and its modernised vision of traditional Galician gastronomy; and El Goloso, one of the finest examples of traditional Spanish confectionery.
The wildest side of Japanese gastronomy arrives in the city with Venezuelen chef, Fermín Azkue, and Salvaje, where Japanese culinary tradition combines with flavours and techniques from every corner of the world. At Le Petit Dim Sum, the new concept from the China Crown group opening its doors within this gastronomy space, age-old Chinese cuisine comes to the heart of Madrid through its traditional dim sums.
Davvero, the new restaurant from the Davanti group, offers a select and refined concept in tribute to Italian gastronomy with fresh pasta fatta in casa and the most traditional dishes from Italy. Visitors to this new gastronomy icon can also enjoy the taste of authentic Italian gelato at the Amorino ice-cream parlour.
From France, Daniel Sorlut brings oysters selected by the best chefs in the world and the excellence of almost 100 years of experience in the growing, breeding and distribution of different types of oysters.
The Galería Canalejas Food Hall blends perfectly with the dynamic pace of this city and the countless cultures that coexist beside one another in the centre of this capital. This is a gastronomy project like no other seen before in Madrid and it represents a major attraction for tourists from both Spain and overseas, as well as an essential entertainment hub for locals.
"It is a genuine source of pride for us to open this new meeting place for gastronomy enthusiasts in the capital", says Juan Pablo García Denis, the General Manager of Galería Canalejas. "Besides being a unique concept that has never been seen in the city before, it is a tourist attraction that will drive economic recovery for the centre of Madrid as well as create more than 300 direct jobs for more than 15 nationalities", he adds.
Since the opening in October 2020 of the French company Hermès, the Cartier maison in November 2021 and the recent inauguration of its gastronomy space, Galería Canalejas has been preparing for its full opening next year with over 40 fashion, perfumery, luxury accessory and fine jewellery brands. A previously unknown shopping and gastronomy arcade concept in Spain where visitors can enjoy a global experience in fashion, luxury, gastronomy, culture and the history of the impressive buildings that house it all within the most authentic and effervescent heart of Madrid.
Forming part of the iconic Centro Canalejas Madrid project
Galería Canalejas forms part of the iconic Centro Canalejas Madrid (CCM) project, the distinctive project designed, built and developed by OHLA, with Mohari Hospitality as financial partner. Combining seven historic buildings in the heart of the capital into a single complex and in addition to Galería Canalejas, CCM houses the first Four Seasons Hotel in Spain, 22 branded residences and a new car park with over 400 spaces with direct access to both Galería Canalejas and the hotel.
As a new and exclusive entertainment and tourism destination in the capital, Galería Canalejas features some amazing architectural value and represents a turning point for the recognition of Madrid as an international luxury destination.